Alright so our day started at around 5am and we got on the road around 630 or so. After 600 miles we are finally in Columbia, MO. We went through 5 states today. WOW. Kaeden has officially been in as many states as he is months old (8). Kaeden did super well on the trip today, I can only pray he will do as well tomorrow; and for the rest of the trip as far as that goes. It's cold here. I mean cold. I think when Chad looked it up just a minute ago it was 26 feels like 9. Holy Moly! We went over the mason dixon line today which is the saddest thing I have ever had to do. Here is a picture of the Ohio River right before we cross the KY boarder.
Here are some pics of the arch in St Louis. I think its called "the gateway to the west"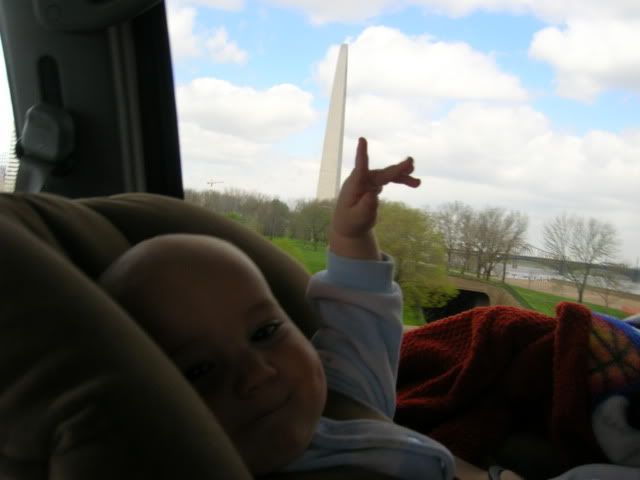 I should have known that I wasn't in the south anymore and that I was probably not going to be able to order sweet tea, but I tried anyway and failed miserably. The waitress said "We have tea, and sweetener." I wanted to say, "Do I talk funny to you?" but I didn't.
Oh yeah I had a great moment this morning while getting breakfast at the Krystal. It for sure gave me a wonderful lasting memory of Chattanooga. So the girl inside got my order wrong, no big deal I just let her know what I ordered. She proceeds to start yelling and the guy who made it and was like "This is supposed to be an original scrambler compende mother F-er." It was so crazy. Then she hands me my bag o' food and says "sorry about that have a GREAT day" LMAO.
Well, I am going to try to compress the suitcases down to just one since I know it will be cold the next couple of places we are going.